---
GoodSound! Research Project: How I Built My Bedroom Stereo System
The dilemma
I had a problem. (And no, it wasn't that one.) My main two-channel rig was set up in my living room, but I wanted a second system for my smallish bedroom so that I could entertain myself when the family was home and using the living room. This bedroom system would have to be good enough that I could listen without missing my main system too much. Also, I had to decide if this bedroom system would be two-channel as well, or do double duty as my home-theater system. Those hurdles alone would have been difficult enough to jump, but there was one more, major challenge to be met: The second system had to be very affordable, because I'd already blown far too much -- in my wife's estimation, anyway -- on the big rig.
Resolving the stereo-vs.-home-theater dilemma proved to be the easiest of the problems to overcome. Because I already had a really good stereo but didn't have a 5.1-channel setup, I decided to go the latter route for the bedroom -- with the caveat that this system still had to provide an engrossing musical experience. I'm an audiophile, for crying out loud -- what else could I do? But this brought me to the crux of my problem: how to get the high-quality equipment I wanted while keeping the price low enough that my long-suffering wife wouldn't sue for divorce on grounds of abandonment. I was already spending enough time and money on my stereo. This second system could push my marriage over the edge!
The research
Having decided that I wanted a small but good home-theater system, I set about researching what was available that I could afford to buy new and live with over the long haul. I have nothing against buying used -- it can be a great way to get equipment of far better quality than you could get otherwise -- if you know exactly what you're looking for and can determine from a photo (sometimes available) and/or description what shape the piece is in. (With used gear, there's almost never any testing before buying.)
But you'd be surprised at how much good, new, affordable high-end equipment is out there if only you look carefully enough. And it comes with a warranty, something you can't say about most used equipment. One great resource is the SoundStage! Network's archive of equipment reviews -- particularly the reviews from this site, whose sole purpose is to help folks find quality audio on the cheap. Other sources of information are also available on the Web. Audio forums are one such, though you need to remember that these forums contain a lot of uninformed opinions bandied about as facts. One of the best methods is to find that elusive good dealer that can offer complete aid in both finding equipment that matches, then setting it all up correctly.
The equipment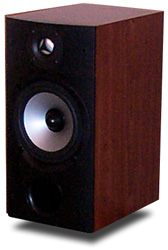 Having spent time with a pair of PSB Stratus Mini loudspeakers in my main system a few years back and having enjoyed the sound, I decided to investigate PSB again. Plus, my old dealer friend carried PSB. Matching my room's size to PSB's offerings, we settled on the Image 1B ($269 USD/pair) as the most cost-effective front and surround speakers for my situation. For a center-channel speaker -- and again letting my dealer friend guide my choice -- we decided on the PSB Alpha C1 ($229) for reasons of price and TV screen size (19"). Cost constraints kept me from investing in a subwoofer right then, but it was on my list of future upgrades (more on that list anon).
The speaker problem solved, I moved on to conundrums of amplification and source. Once again, my dealer came through for me. Knowing my budget constraints, he demonstrated for me Marantz's lowest-priced 5.1 receiver, the SR4000 (street price under $400 when available). Lacking only DTS and S-video capabilities, it had most of the basic features I would need, it sounded pretty good, and it had enough power to drive the system to levels louder than the room or I could handle. My dealer also had the basic Marantz DVD player, the DV4200 (street price around $400 when available), to match up with the receiver for movie watching. And kicking around the house was my (now-replaced) Sony SCD-CE775 SACD/CD player ($400), which could be pressed into service for digital music listening, again for the time being -- otherwise, I'd have used the DVD player as a CD source until I could (here's that word again) upgrade.
Upgrading
The system described above met all my basic requirements: it was cheap, of reasonably good quality, workable, and, most important, fairly listenable. Putting it together was easy -- especially since I could call my dealer with any questions. Listening and watching was fun and enjoyable. But -- you knew there'd be a but in here somewhere -- it wasn't as satisfying as I'd hoped it would be. Sure, it worked, but I knew I could do better. My upgrade list was growing.
What did I want to make my system complete? Well, much as I would have liked some help here, my old dealer-friend had since become one of the casualties of the Internet revolution and was no longer an option. I was on my own. Where to start, and where to get the information I would need to make informed choices? Reading audio publications was one option, online forums another. There's a wealth of information, good and bad, available online. You just need a good filter to separate the wheat from the chaff.
I thought a subwoofer might be a good place to start -- I missed the bass that my PSB 1Bs just couldn't deliver -- so back to the Internet I went. After some more research, lo and behold, a good-quality, affordable solution presented itself in the form of the Mirage Omni S8 ($349): big enough to do the job, small enough to fit in the bedroom, and, most important, affordable. Mission accomplished.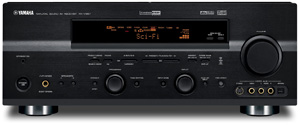 Next up was my desire to get better sound than the Marantz SR4000 receiver offered. Besides, I really did want DTS capability and S-video connections. More research turned up the answer: Yamaha's RX-V657 receiver ($549). Scratch another upgrade off my list.
Now, did I really need separate source components to handle DVDs and CDs? Not when good, low-cost, high-quality universal machines are available. And since Yamaha had the DVD-S657 ($199), which was well regarded, matched up with the RX-V657 receiver, and was inexpensive to boot, I used it to replace the Sony SCD-CE775 and the Marantz DV4200. Now I could play any and all discs, from DVD-Video to DVD-Audio to SACD (stereo or multichannel) and CD: more versatility in less space. That pleased me and my wife.
What next? Oh yeah, silly me -- the center-channel needed serious attention. Time to upgrade that speaker, especially as I'd already changed from my old Magnavox TV to a slightly bigger Sony. This was going to be tricky; to keep the same sonic signature, I wanted/needed to stay within the PSB family. The PSB 8C was what I wanted, but I knew it was more money than I could justify spending. I kept looking, and this time I wasn't afraid of buying used because I knew what I'd be getting, sound unheard. I looked and looked, and finally found an online company that offered the PSB 8C on close-out (PSB was updating the Image line) for a price I could afford. I placed the order and got the newer model, the C40 instead of the 8C, for the same closeout price.
This is more like it
After buying the base system for my bedroom, I upgraded it one component at a time over a period of a year to keep costs manageable. Now I have a system that satisfies my audiophile side and the family's economics, and has probably saved my marriage. Sure, it took some time, and a lot of research, but the results are worth it. I've ended up with a bedroom system that's well-matched, sonically and fiscally.
If you want to put together a good-quality, low-cost bedroom system -- or a low-cost main system -- do your homework. If you have a good dealer near you, work with him. Despite his somewhat higher prices (compared to the Net), you'll not only be able to take advantage of his expertise, you'll also be able to listen before laying out your hard-earned dollars. But if, like me, you don't have a good dealer nearby, then use that wonderful new tool, the Internet: Research, study, read, think, ask questions, and then do them all some more. In the end, you'll thank yourself.
...John Crossett
---